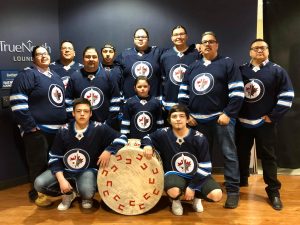 Spirit Sands Singers are a pow wow singing group which started traveling in 1997. Our name comes from a small Desert of sand in South Central Manitoba which is considered by many a powerful spiritual place for our people. The name was gifted to us through dreams and ceremony by our Elders and proper protocol was offered to honor and carry this name.
We are of Plains Ojibway Decent by way of Swan Lake First Nation, MB and Plains Cree Decent by way of Waterhen Lake First Nation, SK. We also have singers from Sagkeeng First Nation, MB and Standing Buffalo First Nation, SK. and from all over turtle island.
Our Singing originated from Traditional and Ceremonial ways and when given permission, we entered the pow wow circle. We continue to utilize the ceremonies and teachings left for us by our ancestors.
We travel all across Canada and Northern U.S. and have met many good people and we are thankful for being welcomed into there communities. We are very honored as well, to have been given the opportunity to sing beside many talented and gifted singers in our travels and will continue to share the good songs and teachings that have been shared with us.
We love singing and everything it has brought us; meeting new friends and gaining extended families; sharing songs and history; and the great adventures of the pow wow trail.
Lastly, we are also grateful for the many words of wisdom and encouragement that have been shared with us and we thank our families and Home-fires for supporting our passion, We hope you all enjoy our music and we will see yah on the pow wow trail, Hoka !!!!! SSS 4 Life !!!
Check the daily schedule for showtimes!