Cutting is a competition in which a horse and rider work together before a judge or panel of judges to demonstrate the horse's athleticism and ability to handle cattle. Modern competition utilizes a 2+1⁄2 minute performance, called a "run." Each contestant is assisted by four helpers: two are designated as turnback riders, who help to keep cattle from running off to the back of the arena, the other two are designated as herd holders to keep the cattle bunched together and prevent potential strays from escaping into the work area. Cutting cattle are typically young steers and heifers that customarily range in size from 400 to 650 lb (180 to 290 kg).
A contestant is required to make at least two cuts from the herd, one of which must be a cut from deep inside the herd while the other(s) can be peeled from the edges. Once the selected cow has been driven clear of the herd, the contestant commits the horse by dropping the rein hand to feed slack and give the horse its head. At that point, it is almost entirely up to the horse except for allowable leg cues from the rider to prevent the cow from returning to the herd; a job the best horses do with relish, savvy, and style. Judges score a run on a scale from 60 to 80, with 70 being an average score.
Cutting dates back to a time when ranchers in the west hired cowboys to work herds of cattle out on the open range. Certain horses specialized in sorting and separating individual cattle from the herd when needed. Cutting moved from the open range to modern arena competition.
Stall and Camping Information Coming Soon!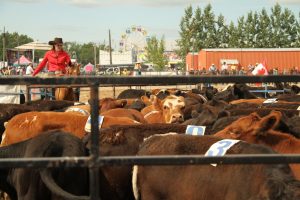 EquineStraw by HealthiStraw will be available for purchase onsite!